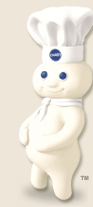 Free Pillsbury Food Coupons from General Mills
Learn about free money-saving food coupons and special events and offers from Pillsbury.
As a member, you can save up to
$24.55

in Pillsbury.com coupons this month!
You must be a member and logged in to print coupons.
GO HERE TO BECOME A MEMBER!!!!!!!!!!!